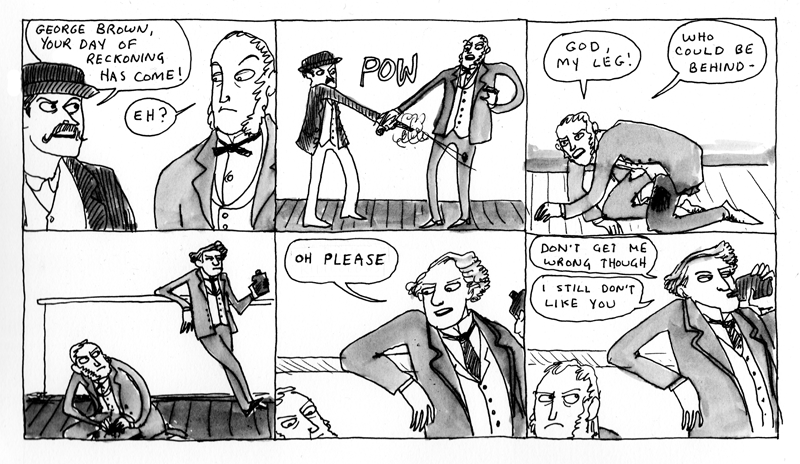 Kate Beaton is popular. Or should be (www.harkavagrant.com)
I've realized that in some of my recent work I refer to "popular historians," by which I mean historians who write books that people actually read. A friend commented that some academics might take the term as an insult, as if "popular" is, by definition, the opposite of scholarly.
This discussion got me thinking about the differences between American and Canadian scholarship. I read as much American history as I do Canadian, likely because I'm interested in a period when these two places did not exist. Consequently, I am acutely aware that I can pick up a book by Alan Taylor, Jill Lapore, or William Fowler, Jr. in most book stores; on the other hand, I rely on Amazon to find monographs by John G. Reid, Allan Greer, and other prize-winning Canadian historians (Jerry Bannister, Michele Ducharme, and Jeff McNairn come to mind).
Popular history is not always scholarly, especially in Canada. We have Pierre Burton, who academics love to hate. Yet his books (and there are dozens) get people reading about Canada. Next year, as the Harper Government™ works to re-brand Canada as the country the War of 1812 made, you can be sure that Burton's Flames Across the Border will feature heavily in Chapters. But so, too, will Alan Taylor's The Civil War of 1812. One is certainly more scholarly than the other, but both are popular.
Popular historians serve an important purpose in civic debate. For example, I'm somewhat surprised that no Canadian historian has stepped up to explain the Occupy movement in the way that Jill Lapore did to investigate the Tea Party. Canadians have excellent historians well-suited to explain these phenomena (Ian McKay's Reasoning Otherwise or Rebels, Reds, Radicals should be hot sellers at the moment), but none seem particularly "popular". And they should be.
Canadians need to discover their historians, and historians need to make the case that history (and those who write it) should be popular.